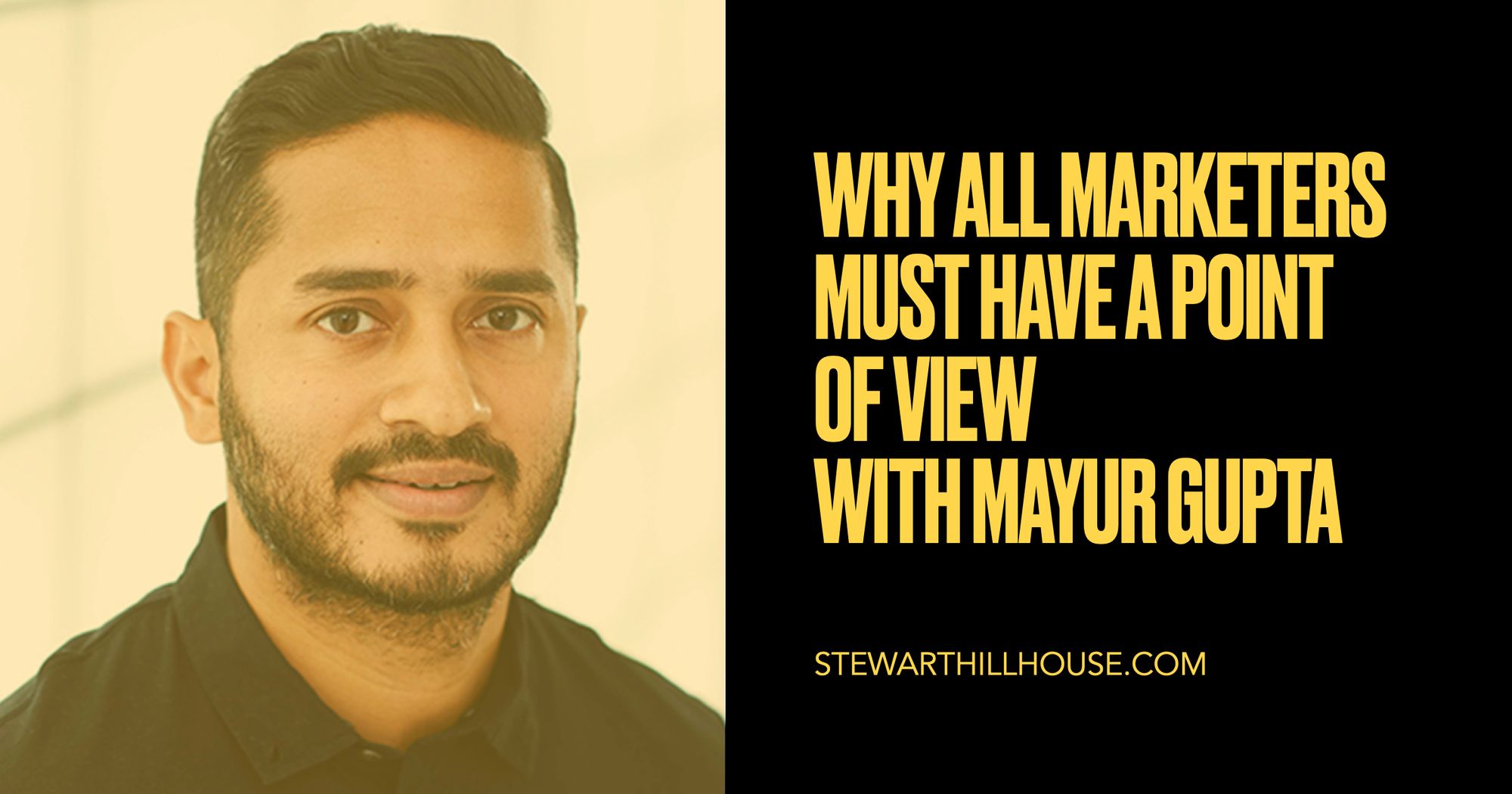 Why All Marketers Must Have A Point of View with Mayur Gupta
Consumers are way smarter than marketers give them credit. They also have more choices than ever before. Mayur Gupta joins Stewart Hillhouse to discuss why brands need to think about more than just top-line revenue.
---
Who's The Guest?
👤 Name: Mayur Gupta
💪 What They Do: Mayur is the CMO of Gannett, and previously a marketing leader at Freshly, Spotify, and Kimberly-Clark
🌐 Mayur on the web: LinkedIn | Twitter
🧠 Best Advice: Modern marketing is Art in Science, and Science in Art. They're inseparable.
---
Episode Takeaways
A short summary of the most actionable takeaways and best advice of the episode.
Systematically, Marketing is About Behaviour Change
As a software engineer by training, Mayur thinks in systems. So to simplify the complexity of marketing, he breaks it down to it's most simple part.
We're no different as people from a hundred years ago. It's the technology that has changed. And therefore the behaviours that we exhibit daily.
💥 Take Action: Don't be afraid to read older marketing and advertising books. More often than not, the psychology will still be right.
Marketing Leaders Must Consider Profitability AND Purpose
In a hyper competitive world, the consumer gets to have choices. This means that having the right Why is just as important as having the right product.
💥 Take Action: Find out from your CEO what the company purpose is. Don't have one yet? Help them to find it.
Finding A Point Of View Accelerated Mayur's Personal and Professional Growth
"I wasn't a bad person. I just didn't acknowledge what I stood up for. [Finding a POV] was a little bit of a hockey stick for me personally."
Finding a POV helps stand out from the crowd because it signals what you believe in. This helps act as a lighthouse for likeminded people (and customers) to find you.
💥 Take Action: Don't know your POV as a marketer yet? Start sharing your ideas on Twitter or LinkedIn. I find writing to be one of the best ways to discover what really matters to you.
Mayur's Formula for Product Market Fit
An Amazing Product
Eager Customers
Impeccable Timing
💥 Take Action: Read How Superhuman Built an Engine to Find Product/Market Fit.
Brand is An Outcome, Not An Input
Everything has to work for years for you to build a trust, which ultimately builds a brand. Brand is an outcome.
---
If you found this useful, consider joining Top Of Mind Weekly – a short email I send on Thursdays where I share ideas that are top of mind where The Attention Economy, Marketing, and Culture overlap.