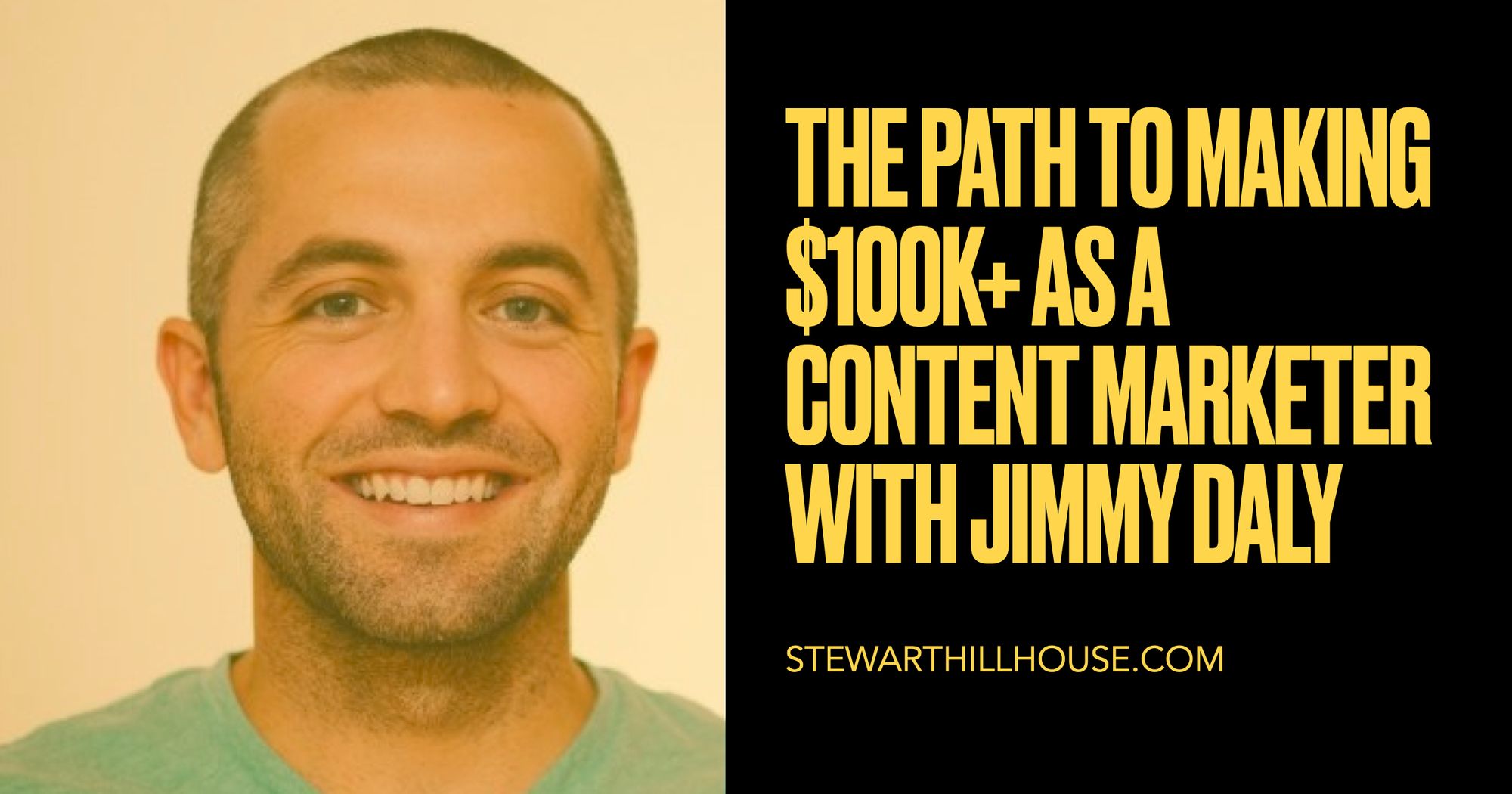 The Path To Making $100K+ As A Content Marketer with Jimmy Daly
The job of a content marketer is not to write blog posts. Your job is to support the business. Jimmy Daly joins Stewart Hillhouse to share what he's learned from building a community of 1,900+ content marketers.
Listen on Apple, Spotify, Google, or other platforms
Who's The Guest?
👤 Name: Jimmy Daly
💪 What They Do: Jimmy is the Founder of Superpath, a career resource for content marketers.
🌐 Jimmy on the web: LinkedIn | Twitter
🧠 Best Advice: Content marketing must support the revenue strategy of the business. Marketers who can analyze what a business needs and are good writers will have many opportunities in their careers.
Episode Takeaways
A short summary of the most actionable takeaways and best advice of the episode.
What Content Marketers Who Make Over $100k Know That Others Don't
Jimmy has interviewed dozens of Content Marketers who are now in positions or have multiple revenues totalling over $100K a year.
Here's what they all have in common:
Started their careers in content and used that to get really good at writing.
Then started layering on leveraged skills on top of that (team management, strategy).
Did it consistently for at least 10 years
💥 Top Of Mind Takeaway: Get good at writing by doing a lot of it for a long time. If you're already on this path, look for ways to leverage your strengths through leadership or building assets.
Think Of Your Work As Layers Rather Than Silos
The daily work of a content marketer can be strange – one moment you're working creatively to get a blog out the door and the next you're thinking high level strategy.
Jimmy's advice is to not think of these things as silos in your work, but rather as cumulative layers.
💥 Top Of Mind Takeaway: Pay attention to how your skills can build off each other. Opportunities will present themselves if you can become the best at a very niche intersection of highly sought-after skills (ex. writing, marketing strategy, domain expertise).
You Have To Match The Content Strategy with the Business Strategy
If you're in a business that relies on a lot of low value purchases, then you're going to want to create a content strategy that drives a lot of traffic.
But if you're in a business that only needs a few high value customers, then you're going to want to create more branded thought-leadership content.
💥 Top Of Mind Takeaway: Before designing a strategy, start by learning what the revenue strategy is of the business you're in.
---
Get Smarter (Without Trying)
If you found this useful, consider joining Top Of Mind Weekly – a short email I send on Thursdays where I share the latest marketing trends and how you can make them work for you.