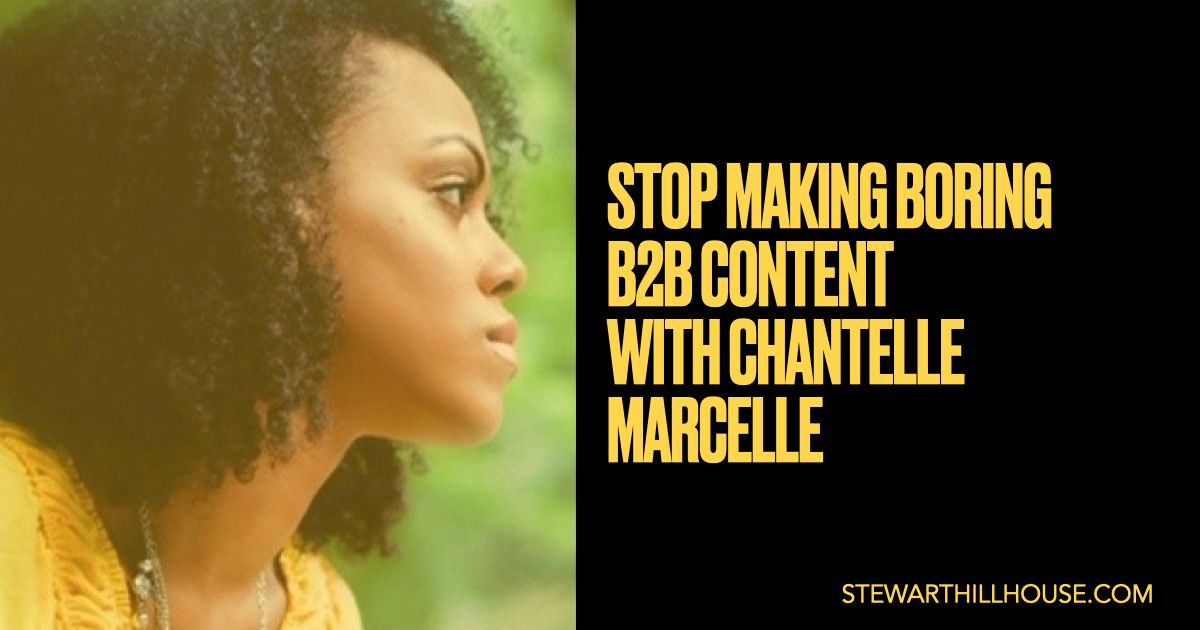 Stop Making Boring B2B Content with Chantelle Marcelle
The best marketers learn from their mistakes faster than their competitors. And the best way to practice is by creating your own content. Chantelle Marcelle joins Stewart Hillhouse to share why she thinks creating your own content is a competitive advantage.
---
Who's The Guest?
👤 Name: Chantelle Marcelle
💪 What They Do: Chantelle is a marketing strategist and content specialist
🌐 Chantelle on the web: LinkedIn | Blog
🧠 Best Advice: Pay attention to the things around you that draw your attention. Take the best parts of it and apply it to your work.
---
Episode Takeaways
Here are the best moments from the podcast episodes
How Fast Growing Companies Use Social Media To Dominate The Conversation
Ever notice that Business To Consumer (B2C) brands have so much more fun with social media than Business To Business (B2B)?
But not every B2B business is falling for this generality.
Chantelle's recommended B2B brands that are killing social media include: Gong, Privy, and Gravy.
But it's not because they post from the company account - it's because the employees post daily. This allows them to organically own the conversation on LinkedIn without always promoting the newest blog or podcast episode.
💥 Take Action: Study what B2C brands are doing with social media and don't be afraid try it out for yourself.
The Environment and Team Matter A Lot In Marketing
You know, a big part of success in marketing is the team that you're on... it really helps to create the right environment to inspire, to innovate, to get people feeling creative.
Things To Avoid When Posting Content
Be disruptive
Always be self-promoting
Never providing value
Have a hidden agenda
People can tell when you're posting content for the wrong reasons.
💥 Take Action:
Make content that's contextual to the platform you're on
Promote yourself only once you've given value
Provide 10x more value than you take
Give without expectations - people will find reasons to pay you eventually
How To Steal Like An Artist
The best marketers know how to steal from others and apply it to their own work.
Pay attention to what's going on around you and take the best of what you see. Turn that into something that's profitable and works for you.
💥 Take Action: Start a swipe file in your favourite note-taking application (I use Evernote). Every time you see something that catches your attention, save it so that you can look back on it later in your work.