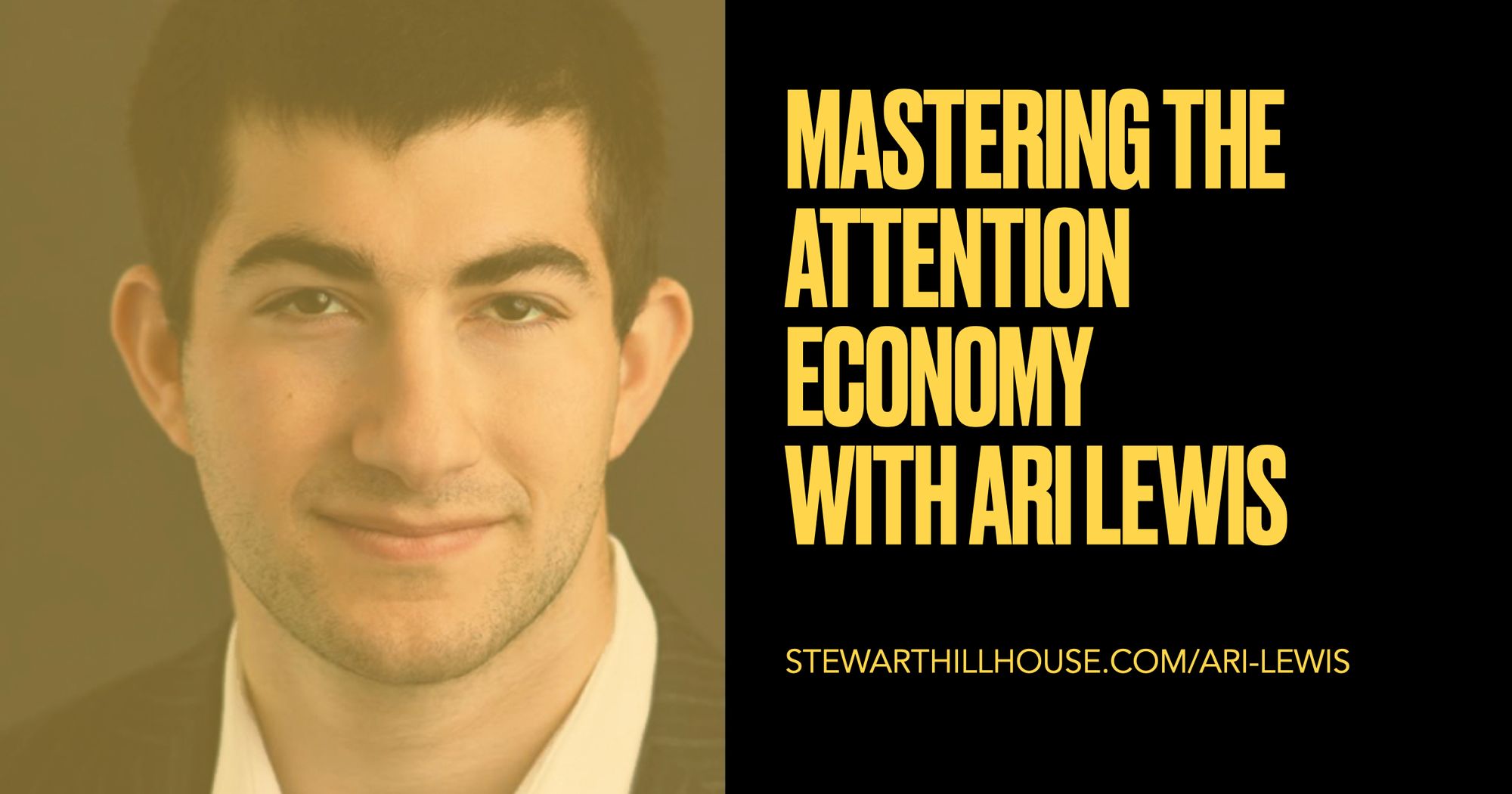 Mastering The Attention Economy with Ari Lewis
Attention is now one of the most valuable assets going. Without knowing how to get it, your ideas will struggle to get off the ground. Ari Lewis joins Stewart Hillhouse to teach him all he's learned about the Attention Economy.
Who's The Guest?
👤 Name: Ari Lewis
💪 What They Do: Ari's the Co-Founder and Managing Partner at Green Block Group. He also speaks about the Attention Economy on his show, Mastering The Attention Economy. Ari writes a weekly newsletter and blog posts for communication professionals.
🌐 Ari on the web: LinkedIn | Twitter
🧠 Best Advice: The biggest lesson for any content creator is consistency. First and foremost, you must be consistent in the timing and subject matter you put out there. If you don't do that, people will stop following you.
Episode Takeaways
A short summary of the most actionable takeaways and best advice of the episode.
When Getting Started Creating Content, It Won't Be Clear
You likely won't know exactly who you're writing for or what people want to hear in the beginning. But don't worry. It's your job in the beginning to stay consistent and refine your craft.
Something they don't tell you about how the Internet works is that putting out content acts like a magnet. No matter what you write about, people will actually begin to find you.
The Biggest Threats To Luxury Brands Is Not What You Might Think
What are brands like Apple and Ferrari worried most about? It's not about building a brand, it's about protecting a brand. Gen Z will have different perspectives on what those brands mean in their mind compared to their parents. Their biggest struggle in the coming years is to figure out how to get the attention of younger audiences and appeal to their values.
How To Run A Personality-Driven Business
Businesses like Barstool Sports were built on the back of the founder having a unique personality that was at the forefront of the businesses content. But what happens when the company gets too big and the leader needs to step down (or retire)?
When you have a personality-driven business, you need to stay in your lane or risk losing your positioning. Succession becomes difficult when the personality of the founder is so intertwined with the story of the brand. Diversifying the attention to other members of the business will help, but won't solve everything.
Distribution > Product
If you've got an amazing product but no one knows about it, it will be hard to grow. But if you've already got strong distribution (by having an engaged audience), you can easily acquire the rights to a good product and be off to the races. Know your weakness and find someone who can help fill it.
On Why Everyone Should Start a Podcast or Newsletter
Primary benefits include:
A Content Engine so that you can stay consistent
A magnet to attract new people to your work
Proof of work
Secondary benefits include:
Introduction to the networks of others
Distribution that comes from people sharing your work (as long as your incentives are aligned)
---
Market Smarter (Without Trying)
If you found this useful, consider joining Top Of Mind Weekly – a short email I send on Thursdays where I share ideas that are top of mind where The Attention Economy, Marketing, and Culture overlap.