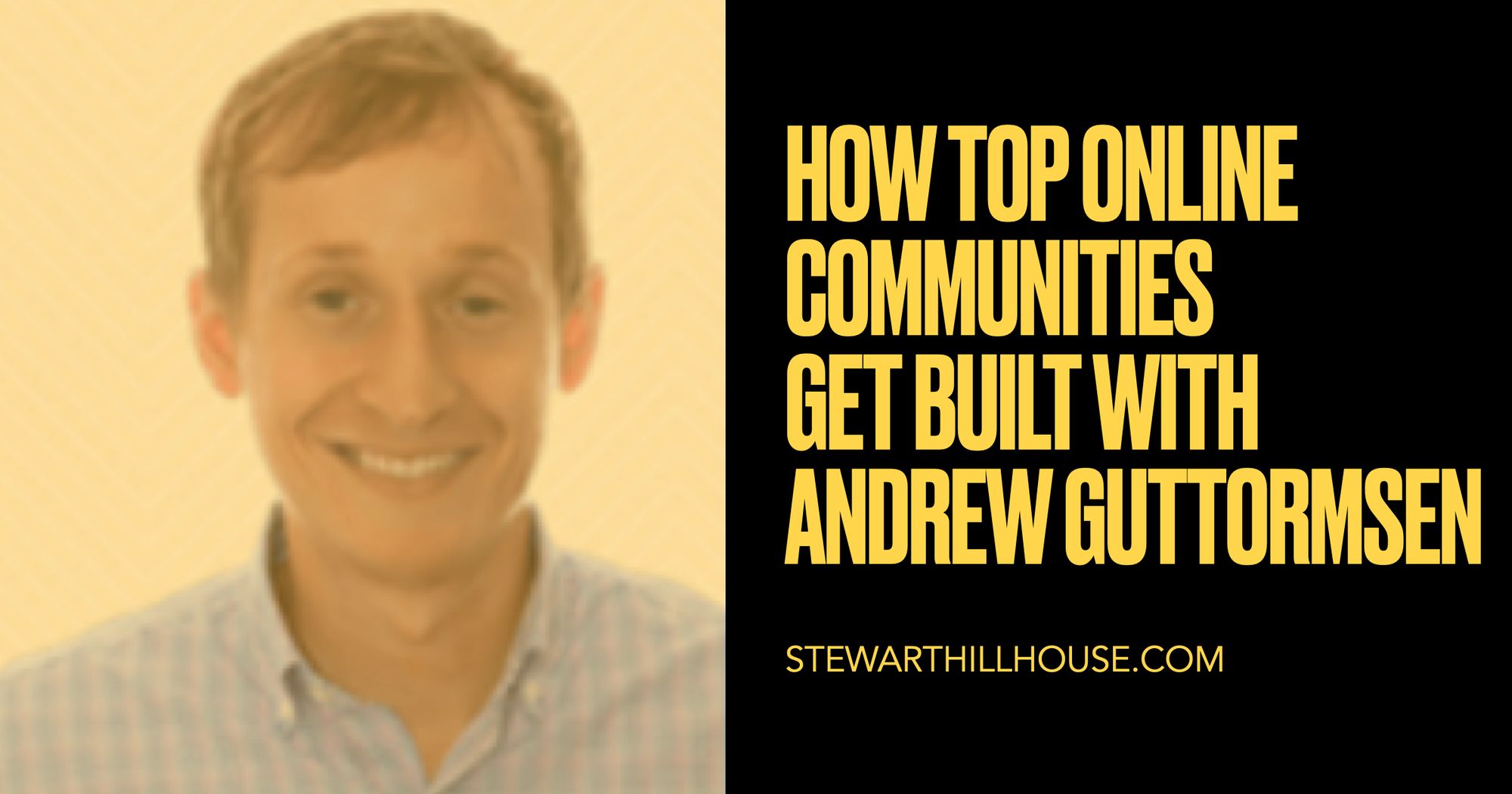 How Top Online Communities Get Built with Andrew Guttormsen
Some of the most successful digital entrepreneurs use online communities to engage directly with their best customers. But until now there hasn't been a tool dedicated to online communities. Andrew Guttormsen joins Stewart Hillhouse on Top Of Mind to share how the best online communities get built.
Who's The Guest?
👤 Name: Andrew Guttormsen
💪 What They Do: Andrew is the co-founder of the online community platform, Circle.
🌐 Andrew on the web: LinkedIn | Twitter
🧠 Best Advice: The true value of a community is the ability for likeminded peers to have a place to discuss things that interest them. Most members aren't looking for more content - they're looking for a place to be transformed.
Episode Takeaways
A short summary of the most actionable takeaways and best advice of the episode.
The Difference Between An Audience & A Community
Many communities are run by content creators, but not all. In fact, when online entrepreneur Pat Flynn polled his community, most said they were there to meet others.
The difference between an audience and a community is members get as much value from their peers as they do from the facilitator.
💥 Top Of Mind Takeaway: If you're a content creator, a simple test to see the appetite of your audience for a community would be to start doing regular office hours. Use it as an opportunity to introduce members to each other and see if they get along.
How Circle Was Born
The Long Tail Of Online Communities
Our comfort interacting with people online has evolved tremendously over the last 5-10 years. It used to be weird to date online. Same with meeting friends or co-founders.
But now, The Internet is the place most would start their journey to finding a community of others.
Andrew was excited about the future of online communities: "The value for content is trending down, whereas the value for connection is on the up."
💥 Top Of Mind Takeaway: Pay attention to what your customers are really looking to accomplish by asking them. What you're offering them might not be exactly what they need.
---
Get One New Marketing Idea Each Week
If you found this useful, consider joining Top Of Mind Weekly – a short email I send on Thursdays. You'll get one new marketing idea each week, plus a breakdown of how to make it work for you.
Get Smarter (Without Trying)