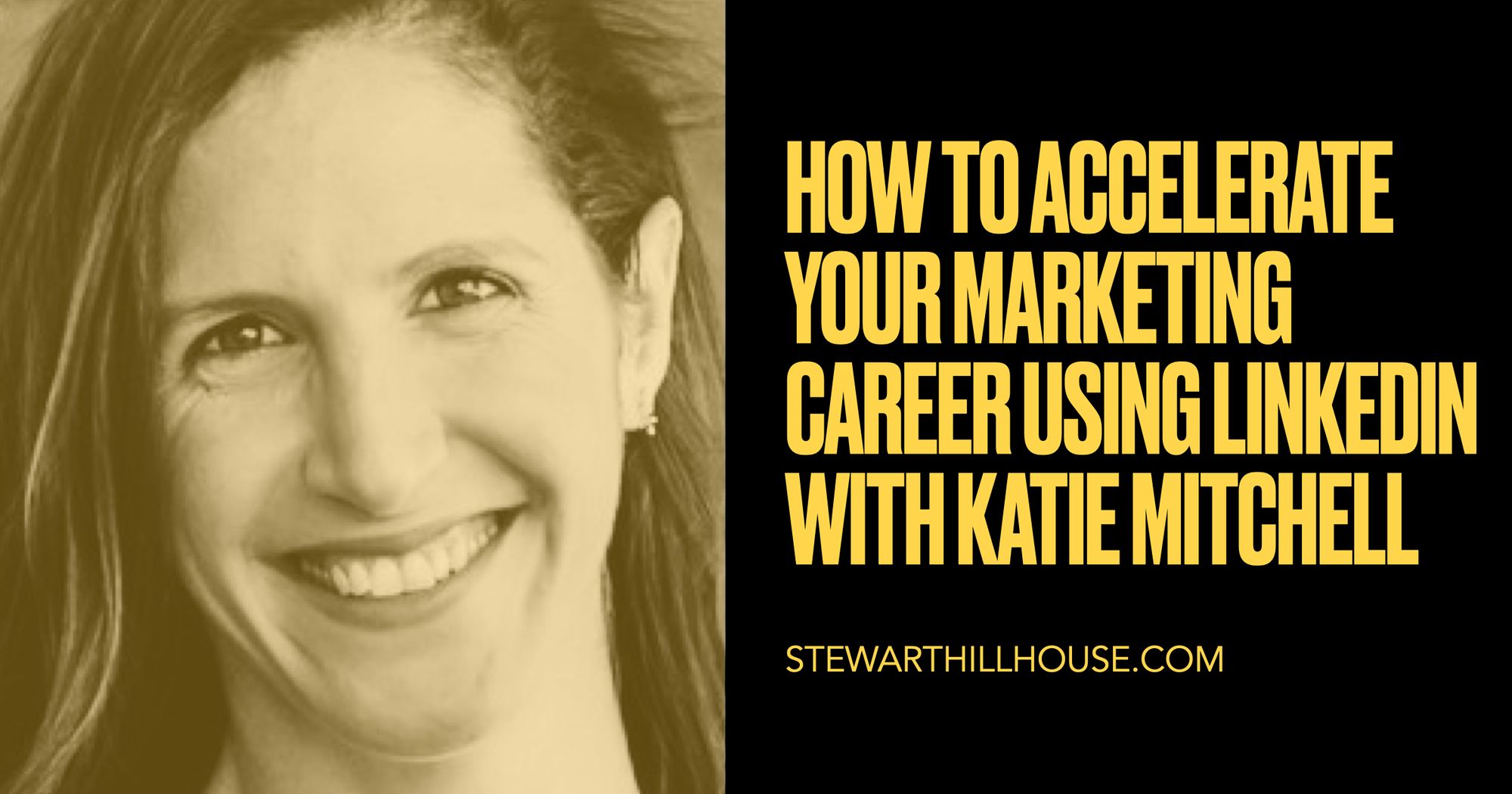 How To Accelerate Your Marketing Career Using LinkedIn with Katie Mitchell
Consistently sharing your ideas publicly is one of the most predictable ways to grow a network and accelerate your career opportunities. But where exactly should you start (and more importantly, how to keep going)? Katie Mitchell joins Stewart Hillhouse to share how she uses LinkedIn to practice her craft and grow as a marketer.
Who's The Guest?
👤 Name: Katie Mitchell
💪 What They Do: Katie is Head of Marketing at UserLeap and a prolific creator on LinkedIn.
🌐 Katie on the web: LinkedIn
🧠 Best Advice: Go back to the foundations of good marketing when you're creating personal content: solid hook, tell a story, have a point of view, and close strong.
Episode Takeaways
A short summary of the most actionable takeaways and best advice of the episode.
Why Katie Started Writing On LinkedIn
Katie explains that she had worked at some large businesses and was ready for a change. She'd been hearing for years that sharing your ideas on LinkedIn was a good place to get started, but she never did.
Finally, she began publishing a thought most days about her experiences as a marketing manager. Soon she saw others like her begin to connect. It was then that she realized that creating content is the best way to grow your network with both like-minded people, but also job opportunities.
She was then able to break into a role as a marketer with a startup thanks to the connections who saw her work and considered her for the role.
💥 Top Of Mind Takeaway: LinkedIn is no longer just a resume platform – it's a content platform. There is a huge opportunity to grow your network by posting regularly. This will increase the number of opportunities that come your way and attract like-minded people.
The Formula For A Great LinkedIn Post
It's important to go back to marketing foundations when creating content. That means:
Hook: Give the audience a reason to stop scrolling and to read your post.
Story: One of the best pieces of copywriting advice is that the purpose of every line is to get the reader to want to read the next line. Stories are an effective way to build excitement and momentum in a short amount of time.
Point of View: Sharing your point of view on a topic makes some people nervous. Instead, just tell people about your experiences. They'll be authentic and a lot of others will be able to relate.
💥 Top Of Mind Takeaway: If you aren't comfortable sharing your point of view, the best way to get around this is to act like a Journalist. Compile expert points of view and share your findings.  
Building A Personal Brand Gives You Real-Life Experience
Most marketers inherit the brand from the marketers that came before them. It's a very rare opportunity to get to design the brand right from the get-go.
But when you begin creating a name for yourself by creating content, you're effectively building a brand from scratch.
This is a great way to practice your marketing skills and explore aspects of brand building that interest you. If you don't enjoy doing them, then chances are you won't enjoy doing them as a job either
💥 Top Of Mind Takeaway: Practicing on your own brand is a terrific way to explore the whole marketing landscape (it'll also make you better at your day job). More and more employers are considering employees with personal brands because it shows that they've got experience doing the work.
---
Get One New Marketing Idea Each Week
If you found this useful, consider joining Top Of Mind Weekly – a short email I send on Thursdays. You'll get one new marketing idea each week, plus a breakdown of how to make it work for you.
Get Smarter (Without Trying)